A group of fundraisers behind the iconic Wirral Bazaar is helping charity North West Cancer Research encourage people to think about sun safety this summer.
The volunteers who organise the shopping spectacular every year and raise tens of thousands of pounds for cancer research across Merseyside are backing the charity's #suncreamselfie campaign.
Launched by North West Cancer Research, #suncreamselfie aims to educate people about staying safe in the sun, as well as draw attention to rising skin cancer rates.
The Wirral Bazaar has shown its support and shared a #suncreamselfie on Instagram and Facebook.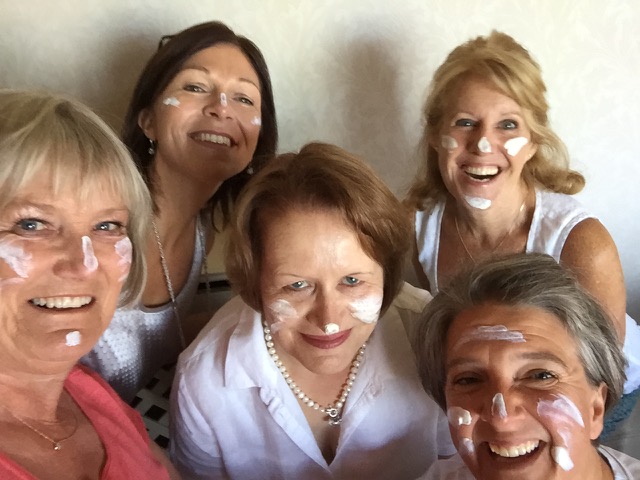 Around 203 new cases of skin cancer are diagnosed every year in the Wirral region. Incidence rates for melanoma skin cancer are projected to rise by 7% in the UK between 2014 and 2035.
Following a recent independent survey by North West Cancer it was revealed that 87.5% of people in Merseyside and Cheshire are unaware of the early warning signs of skin cancer.
The survey also revealed that one in five people in the region don't use suncream when it's sunny in the UK, preferring to only use sun cream when abroad.
Kate Williams, chair of the Wirral Bazaar committee, said: "We are really happy to support North West Cancer Research's #suncreamselfie campaign. We hope that by sharing our own selfies online, we can remind people how important it is to use sun protection when out in the sun this summer.
"Wirral Bazaar has supported North West Cancer Research for nearly thirty years and over that time we've encountered many people who have been affected by all types of cancer, including skin cancer and we are all too aware of the effects it can have."
North West Cancer Research is reminding people to be sensible when spending time in the sun, as over exposure to harmful UV rays can potentially lead to skin cancer.
The charity is encouraging people to be vigilant when it comes to checking their skin, using the ABCDE method, which stands for:
Asymmetry: does the mole look uneven or misshapen

Border: is the edge of the mole blurred?

Colour: is it a mix of shades, has your mole darkened since the last time you checked?

Diameter: is it bigger than 6mm?

Elevation or enlargement: has it changed in shape or become raised above the skin's surface?
To find out more or to take part in North West Cancer Research's #suncreamselfie campaign visit the website or share your own #suncreamselfie, using the hashtag.
For those of you who don't already know, Wirral Bazaar is a shopping event held in the Walled Garden Marquee at Thornton Manor in Thornton Hough. Featuring a selection of more than 70 carefully selected stalls from around the country, it offers visitors the chance to choose from a variety of unique and beautiful gifts for all the family, while raising money for North West Cancer Research.
This year's event will take place 6th – 7th November and more information can be found here.