[dropcap type="circle"]C[/dropcap]andles in pumpkins, fancy dress and fireworks all add up to fun at this time of year, but also pose risks to youngsters who may get carried away by the excitement.
Merseyside Fire and Rescue Service is urging families to think safe this Halloween and be alert to the fire risks from wearing Halloween costumes.
They point out that many fancy dress costumes are currently not manufactured to the same safety standards as normal clothing. This can cause them to ignite almost instantly and burn much more quickly.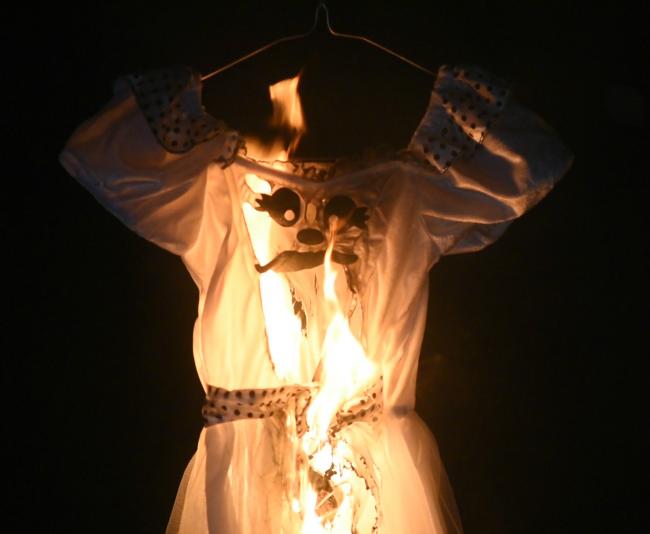 If you are using Halloween pumpkins you should take extra care in lighting them and ensure that no loose clothing is near them at any time, particularly when they are being moved or carried.
If you are putting up Halloween decorations make sure they are placed well away from naked flames or heat sources.
Also make sure that children are never left alone with candles and if using an open fire during Halloween festivities always use a fire guard.
If at all possible always make sure you use LED battery operated tea lights, which do not have a live flame, as opposed to normal tea lights and candles.
Paul Kay of Merseyside Fire & Rescue Service said: "We would like everyone to enjoy Halloween and Bonfire Night as safely as possible.
"We urge people to be careful of how they dress on Halloween – some costumes bought in shops can be flammable so labels should be checked to see how fire resistant the costumes are.
"Never leave children alone with lit candles and make sure they are extinguished before leaving the room.
"If clothing does catch fire remember to STOP, DROP and ROLL. STOP where you are, do not run. DROP to the ground and lie down flat. ROLL over and over on the ground until the flames are out.
"Fireworks should be enjoyed at organised events as they provide safe, controlled displays in places that are suitable.
"We would encourage people to take advantage of organised events rather than risking the safety of themselves, their family and friends by using fireworks at home."
All good advice. If you need more call Merseyside Fire and Rescue Service on 0800 731 5958.