As reported recently by Heswall Today, Thornton Hall Hotel aims to use judicial review to overturn planning permission given in error by Wirral Borough Council to Thornton Manor Holdings.
The mistake – made in 2011 –  allowed the construction in the Manor's grounds of three luxury marquees which should have had a life span of five years. Instead, almost six years ago, the Manor received a Decision Notice of planning permission to which no such condition was attached, and the marquees remain an important part of Thornton Manor's offer.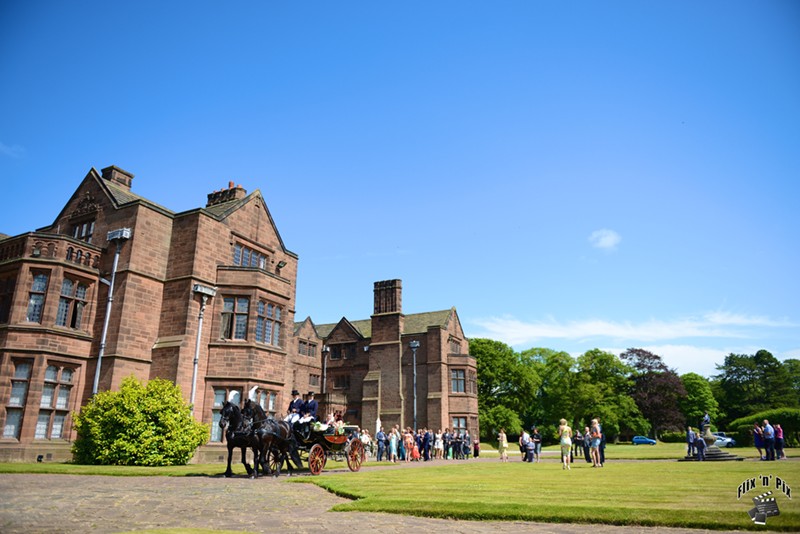 Tania Steel, for Thornton Manor Holdings, reiterated the company's case that, as 'the Wirral's premier wedding venue', it takes its obligations very seriously, is an important local employer, and does everything it can to protect the legacy of William Lever who bought Thornton Manor in 1893 and turned it into a grand merchant palace with fine grounds.
However, she questioned the motives of Thornton Hall Hotel, saying, "We are saddened by the continued attack on the reputation of our business and the upkeep of the Thornton Manor Estate. Thornton Hall Hotel sees itself as a competitor to Thornton Manor. We understand that Thornton Hall Hotel is taking legal action against Wirral Council in pursuit of its own interests."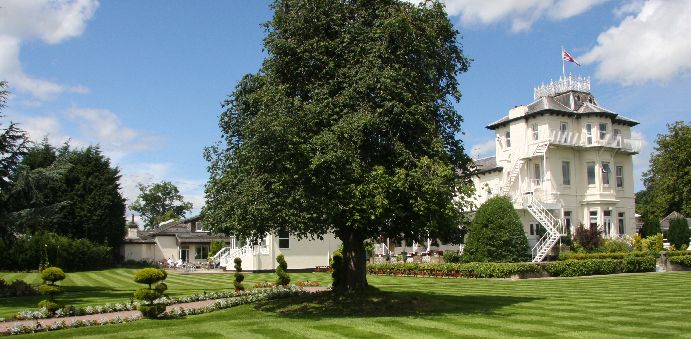 This is the letter sent to Thornton Manor Holdings giving planning permission for the construction of marquees on Green Belt land, but without any conditions – including the five year period. It is the Notice regarded by the company as the lawfully issued decision, and the Council is not in a position to disagree.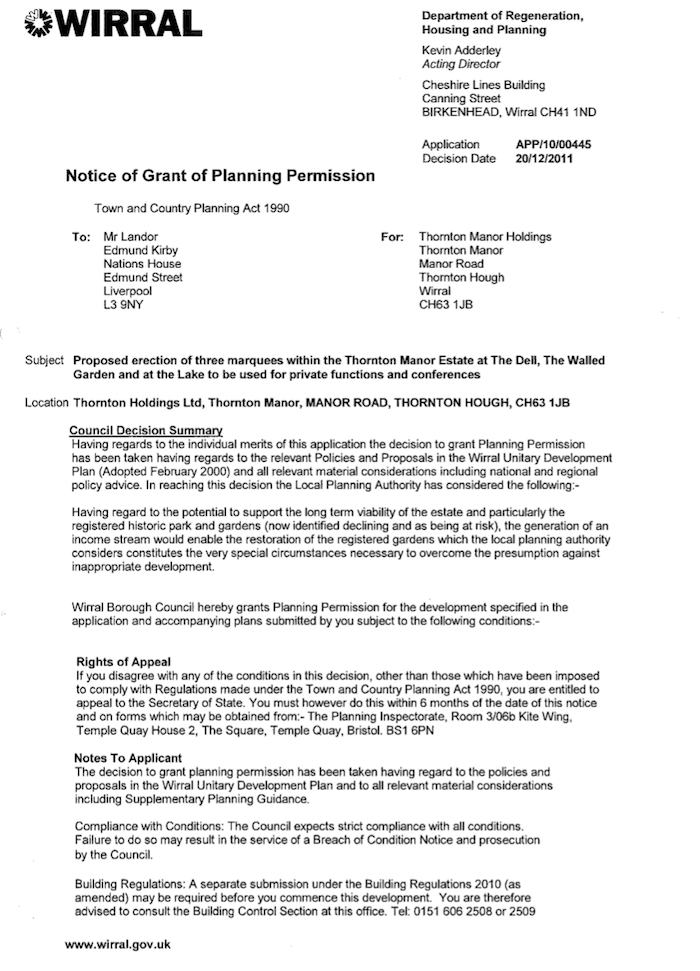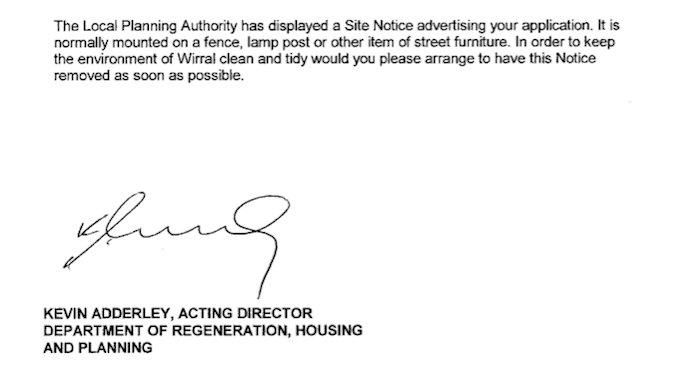 The Council's Planning Committee was told that, for reasons that are "impossible to understand", there was confusion which preceded the sending of this letter, but members were also told that systems have been refined to ensure such a thing doesn't happen again.
Thornton Manor also faces possible legal action by the Council. The minutes of the Planning Committee reveal that Council officers believe the company is in breach of an agreement that required it to account to the Council for monies generated by the marquees during the five year period – a revenue stream designed to help with the regeneration of parts of the estate.
Of the Judicial Review a Council spokesperson told Heswall Today: "Thornton Hall Hotel has made an application for Judicial Review seeking the quashing of the permission, ref APP/10/00445. The Council's position is not to contest these proceedings and this has been conveyed to Thornton Hall Hotel's solicitors. We believe Thornton Manor will be contesting the application.
"Statements are now being prepared by all parties in this matter and then the case will be considered by the court. At this stage it would not be appropriate to comment further on the details of the case which are to be considered by the court. Any hearing will be held in public at a time to be determined by the court."
Geoff Dale, General Manager at Thornton Hall Hotel, said: "As this case is currently going through the legal process it would be inappropriate for us to comment. It is important to note that the Council has stated it is not going to contest these proceedings."