[dropcap type="circle"]L[/dropcap]ower Heswall's Doug 'the Bee' Jones has long enjoyed a life of milk and honey. Born in Blackpool, his family moved to Liverpool in the 1960s where his father established a successful milk delivery business.
It was a given that Doug would join the family firm and take over one day, enduring 4am starts come rain or shine, and milk was all consuming until, almost 40 years ago, he stumbled across a hobby.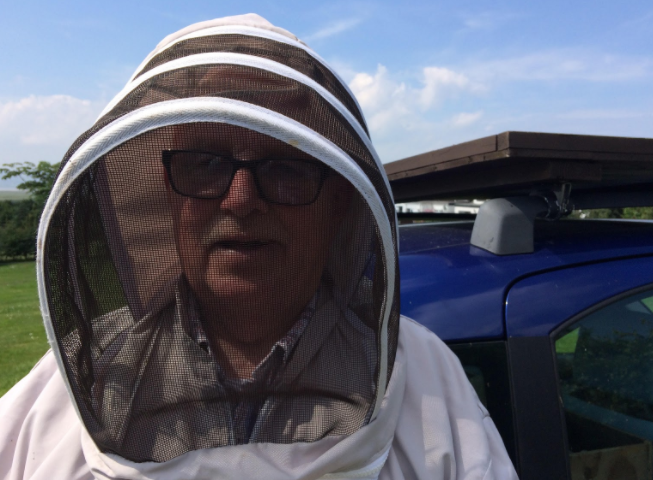 "I read an article in the paper about beekeeping," he recalls, "and in those days every beekeeper had their names in the local library. One of them was Arthur Gillette and I contacted him. He's 98 now, a wonderful man, been my mentor for many years. When I met him his bee suit was a pith helmet with a net stuck to it and tucked in his shirt. I got stung in the face but it didn't put me off."
Arthur provided a starter hive and the best instruction, and Doug was on the way to becoming 'the Bee'.
"It wasn't long before I was producing honey, and it was handy I had my own distribution system. I had signs on my milk float saying, HONEY FOR SALE. I was living in Mossley Hill then."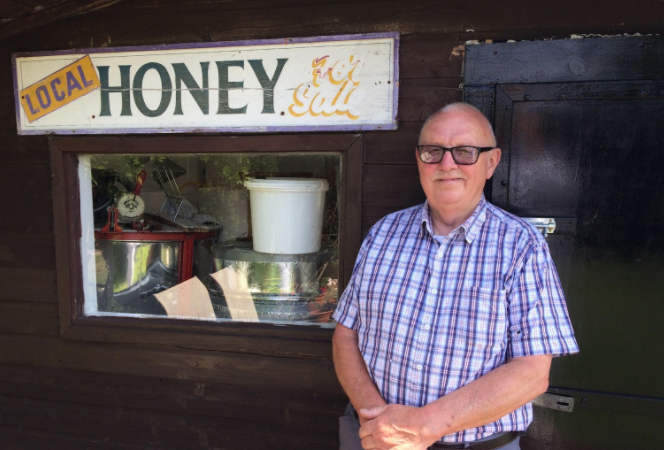 In the 1980s, aware of the rise of supermarkets and the threat they posed to his milk business, Doug sold the company. Having served in the Territorial Army and driven trucks, he gained his HGV licence and drove lorries and coaches for a while. Thanks to his bee expertise, he also started doing part-time summer work as a government bee inspector.
"Inspection is very important," he says. "The two biggest threats to bee populations are a disease called American foulbrood and a parasite called Varroa mites. Foulbrood is carried by spores that stay active for 50 years even when underground, so an infected hive has to be burned and buried a metre deep.
"Varroa mites can't fly so they cling on to the males, the drones, like tics and feed on them and, because drones leave the hive to mate with the virgin queens, and then move to other hives, that's how the mites are spread. Bees are essential to pollination, so we can't afford to lose any of them."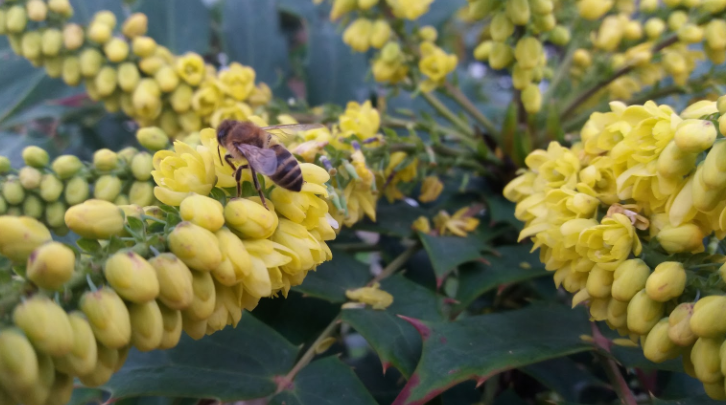 In 1998 Doug moved to Lower Heswall where he lives with wife, Elaine, a teacher. Their home is like the TARDIS, much larger than it looks, a pretty bungalow with small front garden, but at the back, a paddock the size of a football pitch and, at the far end, beehives.
"I love Heswall and Wirral," says Doug. "It's a very nice place to live, nice trips out. I like West Kirby, Port Sunlight, Ness Gardens. I teach beekeeping at Dale Farm. Wirral is good for my bees, too. There are crops and lots of trees. Remember, it's great that people make their gardens bee friendly, but 'a tree to a bee is a supermarket, a flower is a corner shop.'"
You can't get Doug's honey from a supermarket, but it is on sale at a corner shop, the Village Shop in Lower Heswall.
And his favourite honey recipe? "Honey cake. It's simple and quick and a tradition that goes back thousands of years. Delicious." Click or tap here to see it.
Oh, and Heswall Today made a Bee-movie with Doug – watch it here. It reveals one way of stopping your bees swarming.