[dropcap type="circle"]A[/dropcap] top West Kirby yachtsman will compete in the world championships again this summer after specialists at a Heswall hospital helped him make a remarkable recovery from career-ending injuries.
Will Thompson feared his sailing days were over when agonising pain in his back and elbow made getting into a boat impossible.
In desperation he turned to the Spire Murrayfield Hospital for specialist physiotherapy and this summer the 47-year-old will be taking to the waters of the Baltic Sea on his Dart 18 catamaran when the world championships are held in Germany.
He said: "It's all down to the physiotherapy team at Spire Murrayfield – two years ago I honestly didn't think I'd sail again but they've got me back in the boat.
"The treatment and advice have been brilliant. I didn't need surgery and now I'm sailing again and I'm competitive again."
Already the graphic designer and vice-commodore of Dee Sailing Club at Thurstaston has added the UK national inland title to a string of yachting successes across the world which include second place in the world championships in 1995, coincidentally also in Germany and on the Baltic.
Two weeks after the world championships Will has another big date on his sailing calendar when Dee Sailing Club host the UK Championships in August when he will be competing when he had feared he would just be a spectator.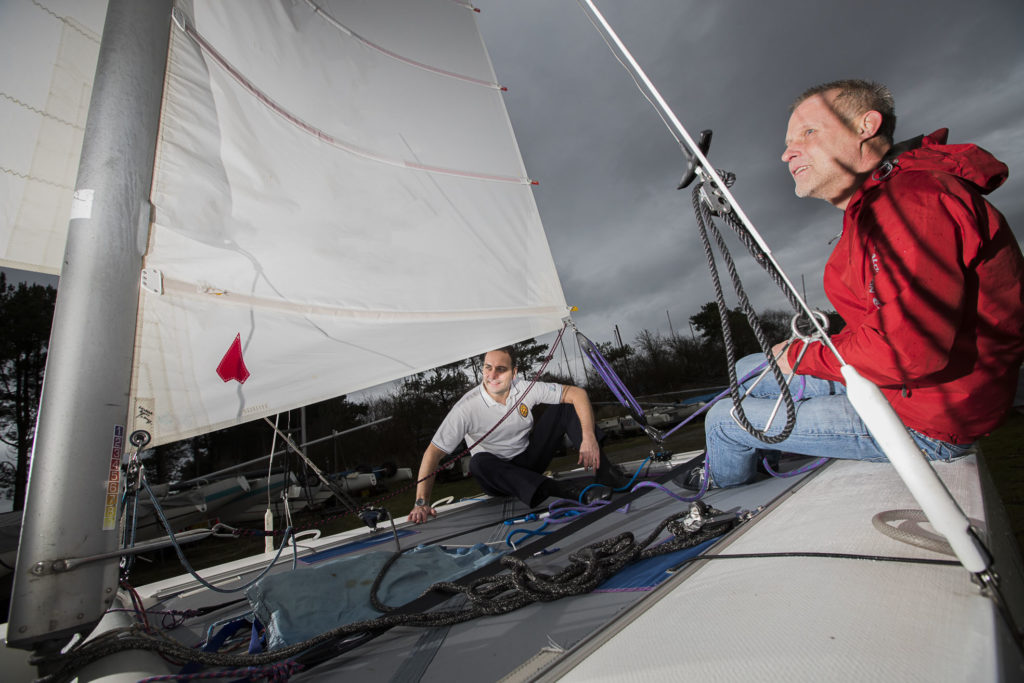 Physiotherapy Manager Christopher Buckley, who used to work with Aston Villa's academy footballers, said: "When Will came to us he was suffering from a suspected herniated disc' also known as a slipped disc or disc prolapse in his lower back.
"It's where the disc bulges out and is quite a common problem and can be caused by heavy lifting – in the worst cases it can mean surgery and although that wasn't the case with Will it certainly ruled out sailing."
Will added: "I could barely walk, I couldn't sail and I thought it was the end. I had even written out the advert to sell the boat and had just about hung up my life jacket.
"When I got the injury I just thought I'd go to the place that will fix it and that's Spire and they did.
"Thanks to Christopher and his team it's fixed. I'm completely pain free and when I developed a tennis elbow problem, probably from hauling on the ropes, they sorted that out too.
"I'm incredibly grateful to them. I've had a new lease of life. I don't know what I'd have done if I couldn't sail any more."
Christopher said: "I do kite surfing myself but I didn't really appreciate what is involved in sailing – there's massive stress going through the core of your body.
"Once we got the pain under control with medication and working closely with Will's GP we began a gradual, phased return, getting him into the gym twice a week, and working on a functional rehab according to his needs.
Will is back sailing at least every fortnight again now on the waters between the Wirral and the Flintshire coast and the man who began sailing at the age of six is relieved that he's again able to pass on his experience to his 14-year-old son, Billy.
He said: "You have to be fit to sail because there's a lot that can go wrong and you need to be fit to be safe or you'll be going for a swim.
"This is a fantastic place to sail. There's some of the best sailing in the world here, strong winds, big tides and big waves too, a great place to learn.
"We've got the UK Championships here in August and there will 75 boats out on the water and I'll be in one of them which I wouldn't have thought was possible not long ago."
Dee Sailing Club was founded 107 years ago and has 275 members, the oldest in their 80s and with a thriving junior section as well.