[dropcap type="circle"]A[/dropcap] scheme to demolish the abandoned pharmacy in Heswall Lower Village and replace it with a three story building has been submitted to Wirral Borough Council.
The new building, designed by local architecture services company KJP of Pensby Road, would mean that 20 Village Road becomes home to a cafe or bistro on the ground floor, with two residential apartments above.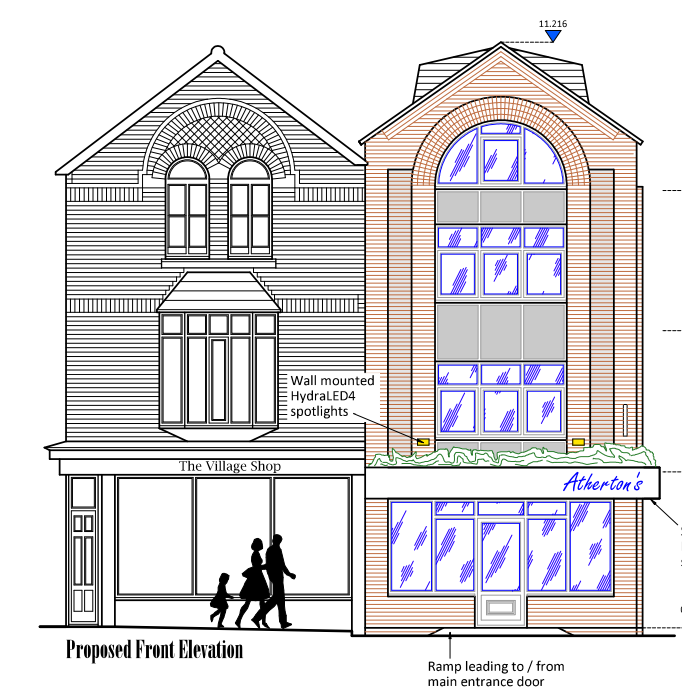 Remarks included in the planning application, made on behalf of Mr Rod Jervis, suggest that the majority of local people welcome the proposal, although a handful of misgivings about its suitability to the Conservation Area were also expressed.
The development would restore the building to more or less its original dimensions. Built between 1875 and 1899 the two semi-detached buildings, one of which is now the Village Shop, were more or less identical – until the German air raids of World War Two. A single bomb claimed the lives of five people and such was the damage to the property that half had to be demolished.

The single storey building erected on the remaining foundations was built in the 1950's and has had a variety of retail roles until the pharmacy's last prescription was fulfilled a couple of years ago.
According to the planning application, "The proposal site, as it stands, has a negative effect on the street scene, the surrounding buildings and the context of the Lower Village in general…[and] can only therefore enhance the character of the area. The loss of the existing building would not be of detriment, if anything it could only be seen as having a positive effect on the character of the Lower Village."  

It goes on: "It would have been easy to replicate and copy the Village Shop but it was felt that the proposal should offer a more contemporary look, of its age, yet still keeping the more traditional feel of the locality.
"The use of muted 'handmade stock' brick with feature arches and projecting features will harmonise the façade yet still offer something different. The front elevation is a reflection of the existing frontage of the Village Shop without it being a pastiche, the treatment of the fenestration [windows to you and me] is of a contemporary style, yet not so different as to look out of place."
To find out more you can access the details of the applications by clicking or tapping here.