[dropcap type="circle"]B[/dropcap]ebington has been named the best place to live in England.
This title is the result of a study by the Centre for Economics and Business Research (Cebr) on behalf of Royal Mail.
Its aim was to identify the postcodes that enjoy the 'best quality of life' in Britain.
The study says people in Bebington – the town also named top spot in 2015 – "enjoy the ideal balance of living close to work, having access to good schools and high employment rates".
The team considered a range of factors including the quality of schools, access to green spaces, employment prospects, working hours, affordable housing and average commuting times.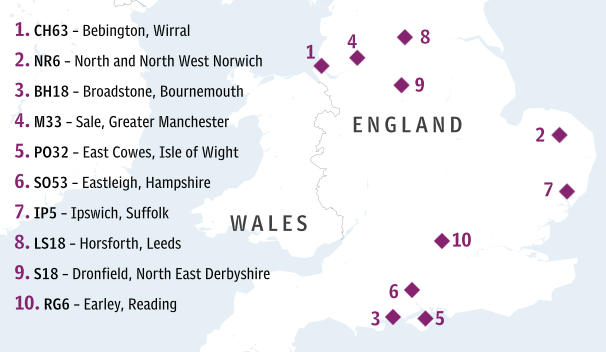 Bebington pipped Norwich NR6, which came second despite its association with Alan Partridge who spent some of his life in a soul destroying Norwich roadside hotel when not doing the graveyard shift on Radio Norwich.
Steve Rooney, Head of Royal Mail's Address Management Unit, said: "This new report builds on the study that we commissioned two years ago and provides unique insight into the most desirable places to live and work, through the lens of the postcode."
Cebr reviewed a number of data sources at the local level, including the 2011 Census and numerous releases from the Office for National Statistics for the study.
However, not everyone agreed with the findings. Responding to the story in the Daily Telegraph's Comments section a former Bebington resident wrote: "As a person who has lived in Bebington for over 21 years I can tell you it is not a desirable place to live…
"Bebington at one time was a nice place, agreed. However in the last decade or so crime has gone up, the small businesses that once gave it a homely charm have either shut down, come under new management or simply still exist as a sombre phantom of what they used to be. Bebington is a place that once had potential yet was forgotten by those who had the power to help it."
What do you think? Please let us know over on Facebook.