"It's hard to believe," says Mark Gorton, "when looking at my 98 kilo body napping on the sofa with its mouth open that I was once a chubby child who dreamed of being able to fly."
More decades later than he cares to mention he has taken that childish imagining and channeled it into The Utterly Amazing Bumbling-Boy v. The Green Bogey, a new all action comedy novel for children aged 8 to 12.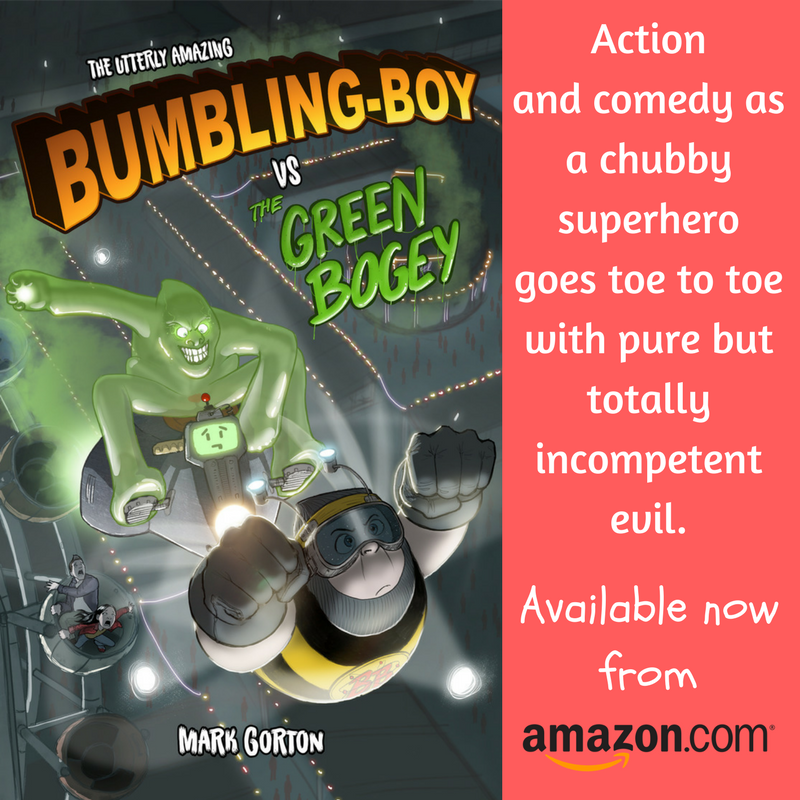 Mark is a television producer and journalist by trade. He began his career in the newsroom at Granada Television where he worked as a reporter and presenter, before going behind the cameras to produce some of the station's biggest comedy and entertainment shows, including The Mrs Merton Show for which he won a BAFTA award.
"Bizarrely," recalls Mark, "when I was a child I used to dream about flying in a giant paper aeroplane launched by an equally giant elastic band. The hero of my story, Kenny Lane, is much more cool, although at first he doesn't think so."
When 10 year old chubster Kenny is stung by a radioactive bumblebee he develops wings and compound eyes.
The good news: against all the odds he can fly. Sort of. The bad news: he's not sure he is the right shape or has what it takes to be a superhero.
To be like a spider or wolverine, that would have been much more cool. To be just plain and simple super, well, that would have been super.
But when his family and hometown are placed in mortal danger by a ghastly villain Kenny realises that being bee-like has its uses.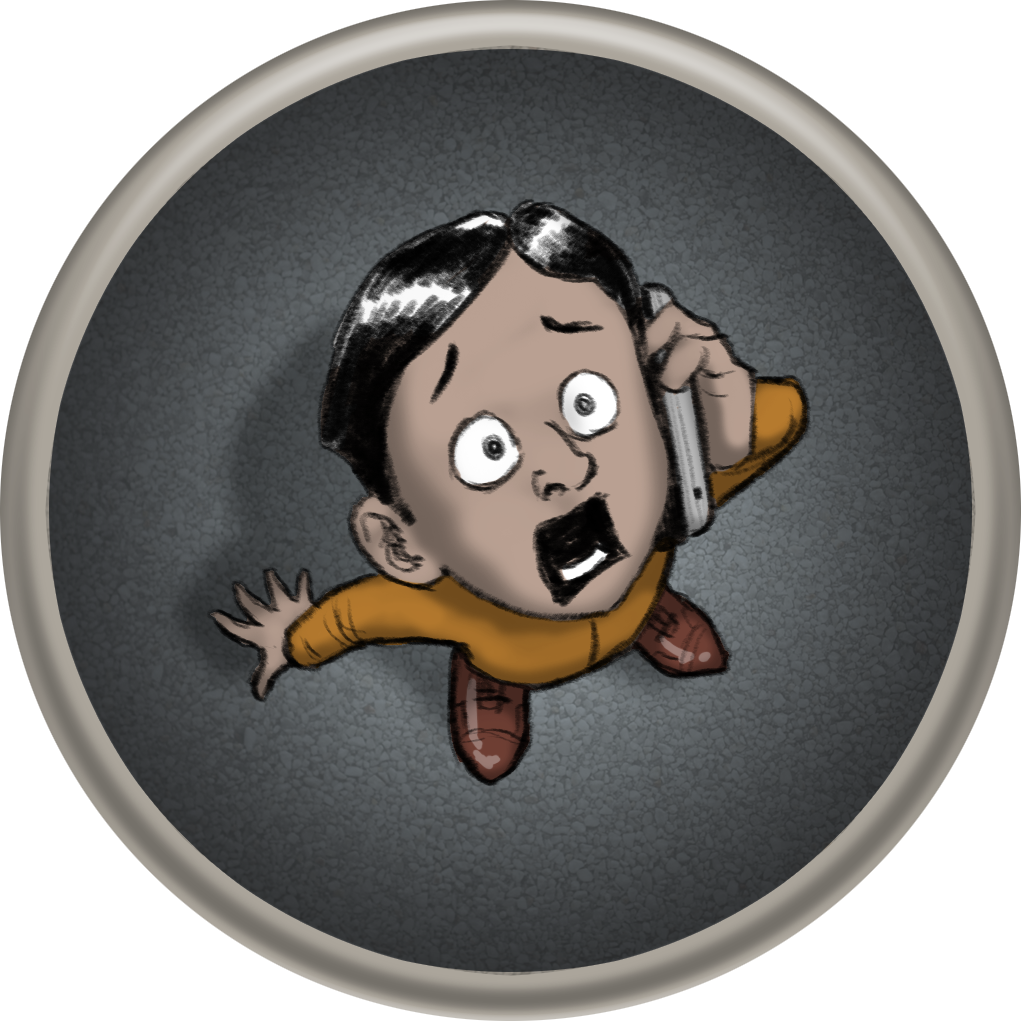 His classmate and fellow dork, Dinkesh, is a giant brain on legs who invents gadgets like the BeeMX rocket powered bike, the BeeZooka and the Bubble Gun.
Mark says: "Kenny lives in a town called Blackwater with his adoptive parents, George and Marjorie, and his real sister, Sarah. Blackwater owes a lot to the town where I was born and grew up.
"The enemy who threatens them all is the appalling Green Bogey, aka Mr Green, the nutty caretaker and former science teacher who has built a mad lab underneath the children's school. The disgusting monster he can transform himself into is the result of one of his insane experiments gone wrong.
"With his sarcastic supercomputer, MUCUS, the Green Bogey intends to rule Blackwater and then the world.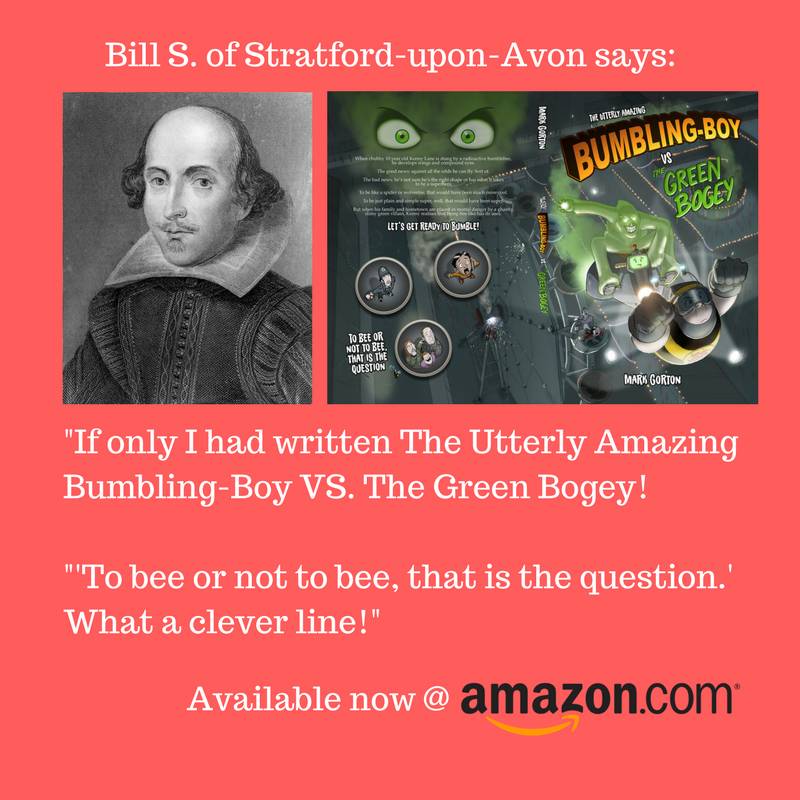 "Spare a thought for Blackwater's senior police officer, Inspector Potter. His first name is Harry and for many years he's been on the receiving end of jokes. Only days ago someone locked him in the police station toilet and painted CHAMBER OF SECRETS on the door."
Young readers can find out more about this and all the latest gossip from Blackwater by visiting the town's local news and views site, The Blackwater Bugle.
Mark adds: "It's the town's local news site masterminded by a key character called Samantha. Readers can get to know more about the place and the people who live there."
The Utterly Amazing Bumbling-Boy v. The Green Bogey is now available to buy from amazon as either an ebook or paperback.
You can find out more on Mark Gorton's amazon Author Page:
https://www.amazon.co.uk/Mark-Gorton/e/B06WD8B4YN/ref=ntt_dp_epwbk_0
Finally I ask Mark, "Would you ever use your own hyperlocal news and views website to indulge in shameless self-promotion?"
"Absolutely not," is his terse reply.