[dropcap type="circle"]I[/dropcap]t is tipped to be in the top three best-selling board games this Christmas but did you know that 'guess the accent' game, Accentuate, began life at a dinner party in Thurstaston?
The game, which was invented by brother and sister team, Graeme and Fiona Fraser-Bell, has a simple yet humiliating premise – players repeat a quotation in a randomly selected accent, and teammates have to guess the accent they're trying to mimic.
The idea for the game, which won investment from Peter Jones on the BBC's Dragon's Den programme in 2015, was initially sparked after Fiona attempted to tell a story at a family party in a French accent.
Graeme, who was born in Irby, said: "She was trying to speak in a French accent but it sounded Indian. Everyone was laughing at how bad her accent was and I just had this epiphany moment that this could be a game.
"The challenge was how to turn a joke into an actual game."
In 2010, they worked with Hoylake-based solicitors, Shipley IP, to register the game's Intellectual Property and began developing the brand with marketing agency, every1.
The game officially launched in Summer 2014 and the team got their first big break after impressing buyers at John Lewis, who put the game on the shelves of 10 stores in time for Christmas. It was an instant hit.
This year, it is predicted to be in the UK's top three best-selling board games with plans to expand globally with German, French, US and Canadian versions all in the pipeline.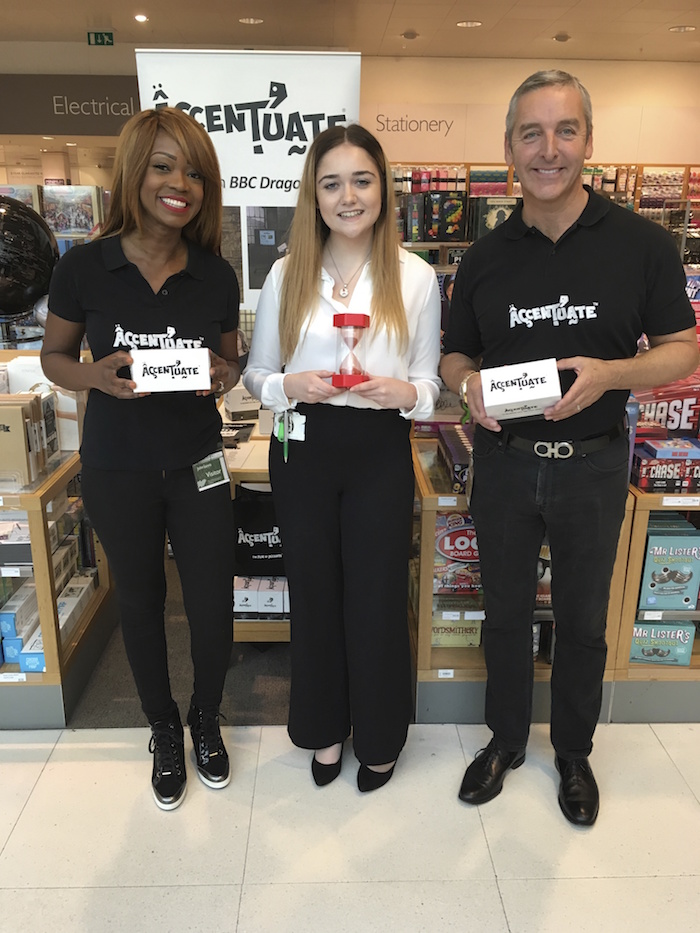 Graeme added: "My wife, Daphne, and I are currently touring John Lewis stores across the UK doing demo days. Between now and Christmas we will do around 37 demo days in total.
"So as much as we love the game, I'm afraid we won't be playing it around the Fraser-Bell table this Christmas! It's our day off."
Accentuate, RRP £19.99 is for four or more players aged 16+.
Visit www.accentuategames.com/ for more information.