[dropcap type="circle"]W[/dropcap]ith the initial preparations for demolition complete the contractors charged with the task of flattening The Pensby Hotel began to really get to grips with it today.
The local landmark which has been around since the 1930s took a battering from a powerful vehicle with hydraulic jaws that began by chomping their way through the roof.
Some pieces of the building's structure were painstakingly removed as rubble and scrap were sorted.
Once the site has been cleared construction of a 60 bed care home will begin – much to the consternation of many local people.
A lot has been said and written about the demise of the Pensby and whether more could have been done to save it.
Today, on the social media page of the Pensby Community Association, which grew out of a local campaign to save the pub, people have simply taken the opportunity to reflect.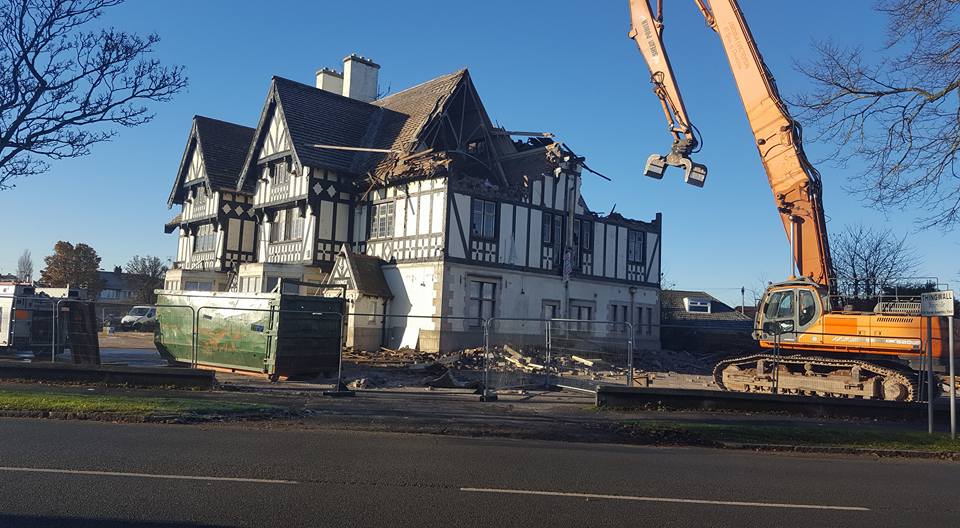 Andrea Jones wrote: "Ridgewood Drive and Pensby Road been so busy with people taking photos and stopping to view thinking back on their memories. The dust is actually reaching our house on the corner of Southridge Road…"
Jeannie Claire said, "Oh, that's a sad sight to see."
Jonie Jones posted: "The rate they are going the pub will be no more by Friday. Sad to see it getting ripped down.  It was obviously built well with an iron frame in the roof. That heap they are going to build in its place won't be as well constructed."
While Samantha Lomax summed up events in one word: "Heartbreaking."
Thanks to John Hughes for the photographs.