[dropcap type="circle"]U[/dropcap]ndaunted by any post-Brexit anxieties about the future of the housing market, the Wirral's largest independent estate agent has opened for business in Heswall and has a special offer for early adopters.
What is the seventh branch of Andrew's Estates can be found on Pensby Road and is led by directors Ben Adams and Dan Hewitt.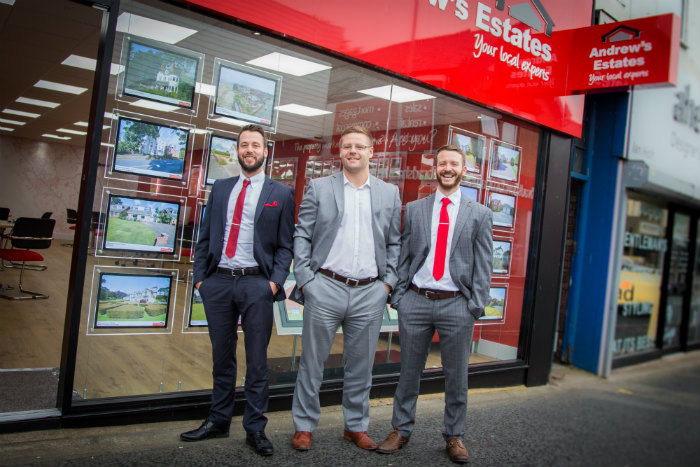 Andrew's Estates was originally known as Andrew's Lets when founded in 2009 by Andrew Smith. The firm rebranded as Andrew's Estates in 2011 when it extended its services to sales as well as lettings.
Today the business employs 32 people across its offices in Neston, Moreton, Prenton, Bebington, Wallasey, Little Sutton, and now Heswall.
The idea for the business came to Andrew in geography and circumstances very different to those of the peninsula – his lightbulb moment occurred while working in Baghdad as a private security consultant. Previously he was a member of the Parachute Regiment during the invasion of Iraq in 2003.
Andrew said: "Ben and Dan are extremely experienced estate agents who previously worked for one of the North West's biggest agents before joining Andrew's Estates. The Andrew's Estates team has worked incredibly hard over the last seven years to build a trusted brand that puts customer service and innovation at the centre of everything we do."
Before joining Andrew's Estates, Ben spent two years working in real estate in Dubai. Prior to that he worked in a number of roles for Beresford Adams in Chester where he got to know Dan.
Ben, who lives in Heswall, said: "Dan and I know Heswall extremely well and have many local connections. Along with Andrew we have committed our own money to making Heswall a reality. The feedback we have had already has been fantastic."
The Heswall branch has an opening offer of 0.5% to home sellers limited to the first 25 instructions.