[dropcap type="circle"]I[/dropcap]t is 35 years to the day since Chariots of Fire had its Royal Command Film Performance.
The movie told the fact based story of two athletes competing in the 1924 Olympic Games in Paris. Eric Liddell was a devout Scottish Christian who ran for God; Harold Abrahams was an English Jew who had to contend with anti-Semitism.
It was a surprise, Oscar winning hit and some of its most crucial scenes were shot in Wirral and elsewhere in Merseyside.
Liverpool Town Hall stood in for the British Embassy in Paris; a scene depicting a performance of the Mikado was filmed at the Royal Court Theatre; and Woodside ferry terminal masqueraded as Dover for the embarkation scenes.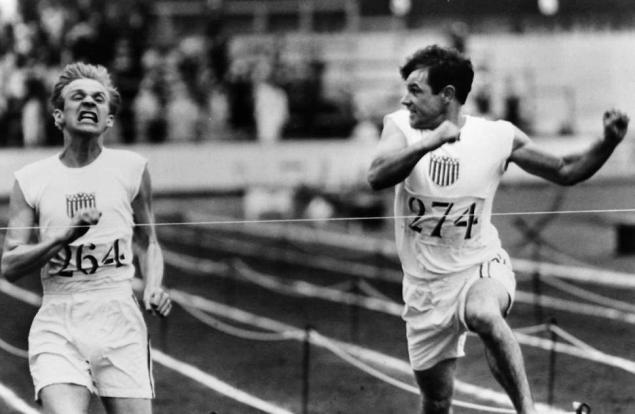 It was, however, Bebington Oval which stole the show when it was transformed into Stade Colombes Paris for the film's memorable, climactic races.
Colin Welland won the Oscar for Best Screenplay and famously announced during his acceptance speech that "the British are coming!"
35 years later the UK creative industries as a whole are worth more than £70 billion to the British economy. At Heswall Today we choose to think that Bebington Oval in particular and Wirral in general played major roles in launching this success.
Inevitably, though, the first thing that Chariots brings to mind is Vangelis' stirring title music. The evocative opening refrains of electronic horns giving way to a syncopated beat that sweeps and drives the track. All thoroughly inspiring stuff and it's near impossible whenever it's played for people of a certain age not to picture mud-splashed runners carving their way slow-motion through the frothing beach surf.
Bebington Oval can be seen in the film's finale when Eric Liddell wins the 400 metres in triumphant fashion faithfully accompanied by the rousing score of Vangelis. Thousands of local extras were recruited for the Olympic crowd scenes and were told to wear dark colours so they would not stand out. Those extras who managed to wear actual Edwardian clothes were paid £20 while those in normal dress were paid £10.
Originally opened in 1888, Bebington Oval was chosen because it matched the period and still had a cinder track. Liverpool Film Office does sterling work attracting film production to Merseyside, but perhaps this 35th birthday is a reminder that Wirral offers some extraordinary spaces for TV and movie makers. If you missed our piece about how your can register your home or property as a potential location click or tap here.